Data breach can leave 24 million vulnerable to home title fraud – protect yourself now
|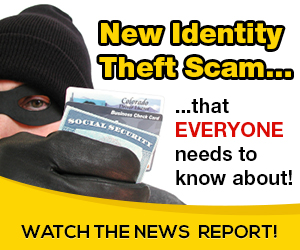 A terrifying data breach recently exposed 24 million people to title fraud. If you have a mortgage on your home, or are refinancing or have a home equity line of credit (a HELOC), you could be a victim of this fraud, and you might not realize it until it's too late.
Get ahead of it by going to our sponsor Home Title Lock, and register for your free title scan and report—a $100 value, absolutely free.
You might think the insurance you have on your home will protect you in case of title fraud, or that the bank will be able to help you out. Unfortunately, you'd be wrong on both counts; insurance doesn't cover title fraud, and the bank is deceived when the fraud takes place. Identity theft guards don't carry into this realm either, so your home is exposed without particular protections.
Watch out! Clever scammer steals a couple's home and they cannot get it back
To get these protections for your home, and all the money you've invested into it, you need to first understand how this recent data breach puts you in danger. Once you understand that, you can see how Home Title Lock keeps you safe, and can continue to do so once you sign up for its services.
At the very least, you'll see how important it is to go to Hometitlelock.com, and register for your free title scan and report. For a $100 value, you'll see if your home is in immediate danger, and you'll see it for absolutely free! Read on to understand the fraud, and the value of this service.
What title fraud is, and what it does to your home
Title fraud is when a scammer or con artist uses your personal information to transfer your house deed or title to themselves without your permission, and very often without your knowledge. With this fake "ownership" of your home, the scammer sells the property, even if you're living there, and pockets the money. Or, they fraudulently refinance your home, taking that money and leaving you with loans to pay back.
Best sites to know how much your home is worth
In either case, you probably won't know the fraud took place until people arrive to remove you from your home, or until late payment notices on the loans show up. In some cases, scammers can even mislead you into giving them your mortgage payments, so they take that money, and leave you more to pay the bank later.
The FBI handles title fraud investigations, since the crime involves identify theft, and often mortgage fraud. As a crime, title fraud was considered "not too common" until recently, with major data breaches making it downright easy to pull off. Many mortgages are paid online these days, and deeds and titles can be found in some form online, and in full form at county record offices.
The data breach at Equifax left millions of Social Security numbers, addresses, credit card numbers and tax IDs exposed, filling in what information was missing for a title fraud to succeed. The recent data breach at Ascension also had names, addresses, birthdays and bank account numbers exposed, plus loan agreements—even more documentation and information scammers need for title fraud. This era of digital records leaves you very exposed and vulnerable to this kind of attack.
Title fraud robs you of your home, and all of the money you've invested in it, like your mortgage payments and home improvements. It's a terrifying crime made all the worse by it happening without your knowledge. But if you're in the loop that it's happening, you can stop it from taking place, and that's where our sponsor Home Title Lock comes in.
How Home Title Lock protects you
Home Title Lock is a company led by a former title insurance executive that, a few years ago, started creating the largest database of property records in the U.S. With 6.1 billion records now on file, Home Title Lock is able to gauge when property deeds and titles are changed at county records offices, and inform Home Title Lock members if their information is being altered.
By catching these title changes as they take place, Home Title Lock is able to cut scammers off and shut down any attempts to alter mortgages or change titles. Should any part of a title fraud scam succeed, Home Title Lock Resolution Experts walk members through what they have to do to get changes reversed, and get the members protected again.
Popular home improvement site hacked – is your personal information at risk?
For $14.99 a month, these members keep their homes safe from title fraud, and if you want such protection yourself, it's certainly a worthy investment. But if you just need to know if your title has already been compromised, Home Title Lock is here to help you, at absolutely no cost.
Simply go to Hometitlelock.com and register for a free title scan and comprehensive title report. Home Title Lock will investigate if your title has been in any way altered or accessed and let you know what changes have been made, or attempted. From there, you can pursue legal action around your title if it's necessary—and whether it is or not, you can decide if you want you and your home protected with a Home Title Lock membership moving forward. Membership comes with a 60 day money-back guarantee, so you have some time to decide if it works for you, and your peace of mind.
Go to Hometitlelock.com and register for your free title scan and report today. That's a $100 value, for free! And with it, comes the peace of mind in knowing if you or your home are in any danger. For that peace of mind, and protection, go to Hometitlelock.com and sign up today.
Find out more about Home Title Lock and title fraud in the video below.

Millions of loan and mortgage records exposed in another massive data breach
When it comes to keeping your information private, most of us tend to think our biggest threat is hackers. But recently, it seems like our biggest threat might just be company negligence. Once again, a large financial company has been caught leaving the personal information of millions of customers exposed. If you own a home, you might be impacted.


Source: on 2019-02-07 04:56:15

Read More At Source Site