Identity, tax theft experts issue holiday warnings
|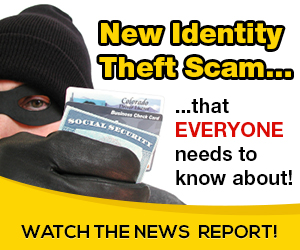 HARLINGEN — The joy of the holiday season can quickly be spoiled by finding you've become a victim of identity theft.
This can lead to financial losses, ruinous credit scores and even in some cases problems with the IRS due to tax scams using your Social Security number.
Fraud experts with the IRS, Treasury Department, Better Business Bureau and the U.S. Small Business Administration yesterday issued warnings that shoppers both in stores and online need to be prepared for aggressive criminals.
"With the holiday shopping season here and the 2019 tax season just around the corner, we have an urgent message for taxpayers in Harlingen, Texas, and the Rio Grande Valley area," said Irma M. Trevino, an IRS spokesperson.
"If you are doing your holiday shopping, whether you are at home on your laptop or using Wi-Fi at a local mall, we urge you to take steps to protect your financial and tax data," she said.
Trevino said crackdowns on scammers over the past few years have successfully reduced identity theft by 50 percent, but she insisted shoppers need to be aware of the risks and help federal authorities continue to tamp down these practices.
"The most common way for cyber criminals to steal your bank information, passwords, credit cards or Social Security number is to simply ask for these pieces of information," said Adriana Gomez, a special agent with the U.S. Treasury Department. "Every day people fall victim to email phishing that costs them their time and their money."
Gomez specifically referenced email "phishing" scams, where criminals dupe recipients of emails into replying to those emails and including their personal information. The scammers can pose as the IRS or other government officials, or even a work colleague or boss.
"People need to make sure their friends and family also are aware of phishing scams that will harm them," she added. "I think we all know someone who may be technologically challenged in some way, and we owe it to each other to be helpful."
Dolores Salinas, South Texas Regional Office president for the Better Business Bureau, said it was clear consumers need to be aware and take action on things which can prevent identity theft or tax fraud.
"The best way to do that is make sure you're using the proper security software, make sure your software is updated very, very often and make sure you're changing your passwords to make sure that your identity is protected," she said. "Make sure when you're out in a public place, be very careful about using unprotected Wi-Fi. You're opening yourself up and your information up to scammers, so be very mindful of that."
Like Trevino, Salinas also cautioned consumers about alleged contact from the IRS whether via email or a text message to a mobile phone.
The IRS does not operate like that, she said.
"The IRS will not call you on the telephone or text you or email you asking for information, asking you to pay your taxes online," she said. "You will get a letter from the IRS if you do owe money to the IRS, and they will provide you a written notice of them wanting to set up an appointment.
"Even though IRS imposters are the number one imposters on our website and our scam tracker, be aware the IRS does not work in this way," Salinas said.
Angela R. Burton, district director of the U.S. Small Business Administration in the Lower Rio Grande Valley, said businesses also have been hit by scammers and they need to be on guard just like consumers.
"In fact, small business identity theft is big business for identity thieves," Burton said. "Just like individuals, businesses may have their identities stolen and this sensitive information is used to open credit card accounts or used for fraudulent tax returns.
"We are also warning payroll and human resources professionals to be on guard against identity thieves," she added, referencing a growing scam against businesses seeking W-2 forms of employees which then can be used to establish fake credit card accounts and more.
Source: on 2018-12-10 15:19:36

Read More At Source Site