Larceny, identity theft and other holiday scams
|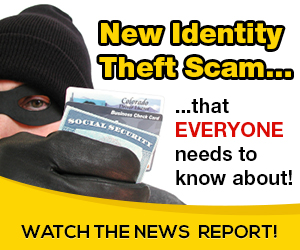 ALBUQUERQUE, N.M. — It's the season for package larceny and identity theft, unfortunately, but a local expert has a few suggestions you might not have considered.
Mark Medley, of ID Theft Resolutions in Albuquerque, advises shoppers to take car registration and any other valuable papers into the store with you when you leave your car in the lot.
Thieves are out trolling vehicles in store and mall parking areas as they conduct their own illicit shopping sprees. They're looking for gifts left in plain view, which brings up another suggestion: put your packages in the trunk and unload as soon as you get home. If the grinches do break in, you protect yourself against identity theft by removing all personal papers, Medley says.
As for items delivered to your door, the Albuquerque Police Department is launching a new "bait package" program that will extend beyond the holiday season.
Borrowing from the bait car program, police will add tracking devices to packages so they can pursue the thieves, APD spokesman Simon Drobik said.
The department recently got an "overwhelming" response from 50 Albuquerque residents who volunteered their porches as spots for the bait, Drobik said.
Most of them have been victims and wanted to assist in the law-enforcement effort, he said.
He estimated that only 15 percent of people who have their packages stolen report the crime to authorities. Most just contact Amazon or other suppliers to have the item replaced but don't call police, Drobik said. (Don't take the easy route — call APD at 242-COPS.)
It's a big problem. Online sales in the U.S. are forecast to increase 14.8 percent from last year, to $124.1 billion, for November and December, according to Adobe Analytics, which tracks online spending.
The Postal Service expects to deliver about 900 parcels, and United Parcel Service forecasts it will handle about 800 million parcels between Thanksgiving and Christmas.
As part of its bait package effort, APD is partnering with the U.S. Postal Service and Amazon to track which parts of town are getting hit so it can focus enforcement.
Amazon will send APD some of its Ring security technology — 20 units initially — which streams video when someone rings a doorbell or motion is detected on a front porch. (Some package pirates ring the doorbell first to see if anyone is home.)
"Traditionally, if (package theft) is a problem, we'd send three or four undercover guys into the neighborhood and watch," Drobik said. "With bait, you don't have to watch. We get alerted."
Amazon also will send information about theft calls and where they're coming from to create what Drobik called a "heat map." One hot area has been southwest Albuquerque, he said.
In the meantime, protect yourself by having packages mailed to work, if that's OK with your boss.
Best option, get to know your neighbors so they can retrieve items left at your door if you're not home and you do the same for them.
"That's gold," Drobik said.
—
A shopping tip from the Federal Trade Commission for those still doing online shopping: look carefully at the shipping date.
If no date is listed for the item, the seller has 30 days to ship, which means you'd miss the holidays. If you're notified about a delay in shipping, you have the right to cancel the order and get a full refund.
If you go that route, make sure to let the seller know right away so you won't be billed. If the seller doesn't respond or refuses the refund, immediately report that to the company that issued the card you used to pay for it, or the bank on which your check was written.
Ellen Marks is assistant business editor at the Albuquerque Journal. Contact her at [email protected] or 505-823-3842 if you are aware of what sounds like a scam. To report a scam to law enforcement, contact the New Mexico Consumer Protection Division toll-free at 1-844-255-9210​.
Source: on 2018-12-16 02:52:30

Read More At Source Site