Protect Your Identity Online with these 8 Security Steps
|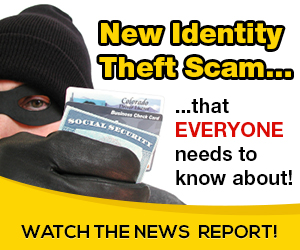 Have you ever been hit by a case of online identity theft? Few of us have been there and it's a scary experience.
Here are handy tips to help you in Protecting Your Identity Online
Cases of identity theft are more challenging to prove. At a minimum, no physical items seem to have changed positions around (Which is the case in physical theft). Unfortunately, you can end up losing control of the funds in your bank account. You could also be faced by police right at your doorstep to explain issues from almost nowhere! The worst cases involve criminals committing a crime under the identity of your accounts.
So, all these scenarios should give you a wakeup call concerning how you undertake your activities online. How secure are you?

Take it easy though. You simply need to be smarter than the criminals. Know how they operate, and the loopholes they exploit. It doesn't hurt to know much more. Bear in mind the when most of the online identity theft instances could be contributed to by your laxity to a great extent.
Not all hackers are very smart.  But, when you give them an opportunity, you have one person to blame. That's you.
Here are the steps to help you in Protecting Your Identity Online.
1. Lock Access to Your Mobile Phone
Smartphones are often overlooked when it comes to online security. In reality, it's a dream come true for an identity thief to get access to it. Take a look at all the apps running under it. It has your emails, social media apps and so on. Think about all your contacts! This is one reason why you must be keen on Protecting Your Identity Online. More, unfortunately, you could have left sensitive apps like PayPal on auto- login modes! Any illegal access to your smartphone equals access to all your online accounts, in one place but only in wrong hands!
Ensure that you go beyond the simple swiping pattern and the pin that's only four digits. You can bet on authentication based on biometric recognition. You can also strengthen up that with passcodes. A good example here is one from iPhone X.
2. Always Shred Documents with Sensitive Information
You should never leave any sensitive information in any accessible forms. When you are done with your bills, banking statements or credit card pay logs, ensure to destroy all the paperwork. Ensure you have shredders both at home and office for this. Shredding ensures that none of the sensitive information leaks out. That includes the account numbers, PIN numbers to bank accounts and credit cards. You credit card logs are also very sensitive. Malicious payees can be compromised towards getting personal information related to you. So, in an extended way, protecting your hard copies with sensitive information facilitates in Protecting Your Identity Online
3. Put Up Strong Passwords For Every Site
According to f-secure.com, strong and different passwords should be used for any service account you access. Some service providers are very strict with their policy regarding this. If you input a weak password, your account is automatically rejected! That's for your own good. You do not envy a situation where you have one password for PayPal, Skrill, Gmail, and Facebook. It's that easy when someone accesses your Gmail password, they are right into your Paypal account. Limit that and the compromise will hit you once instead of severally. That's an idea you should explore to Protecting your identity online. You have no excuse for being forgetful when it comes to password recalling. Use tools like the password manager to ensure you maintain the long and unique passphrases across accounts.
4. Secure Digital Documents
Securing digital documents is not complicated. It's simply encrypting your files. Any intruder accessing them will surely have a hard time decoding the files. That gives you an upper hand in case you have sensitive information in there.
5. Verify If Your Recipient is Official
Your information remains personal and should not be transmitted without a background check on the recipient party. Each time you are requested for personal information, ensure the receiving party is an official channel. If you've been requested to provide information via mail or email, be careful. Request for a reasonable time and before sending such information, check out if it's an official recipient. So, you won't lose your information to a wrong party purporting to be your banker or insurer. Being curious about the official channels will help you in Protecting Your Identity Online.
6. Phishing Isn't an Easy Feat
It's not an easy task to deploy Trojans successfully over millions of computer nodes over the internet. Some fraudsters chose an easier path by tricking you to just reveal your personal information.
Towards Protecting Your Identity Online, understand that phishing scammers masquerade as important service providers like your bankers. In most cases, their URLs almost resemble those of your banking portal, with clever variations to it. If you are not keen, you end up keying in both usernames and passphrases to a wrong site. More sophisticated ones may redirect to the genuine site. So, within a fraction of seconds, your passwords are copied to a third party server.
Let your curiosity tickle you especially when you receive links via emails from banks. As a matter of caution, it's better to login via the official portal of your service providers. Stay away from redirecting via email links.
As a keen surfer, always ensure that URLs are marked as secure via a lock icon and the prefix of it reads as HTTPs for secured. Insecure URLs only appear with HTTP, missing the's'. A good antivirus will notify you of an insecure URL. In that case, please keep off such sites.
You may be tempted to believe that Phishing isn't for the workplace. Be careful! Spear phishing, involves insiders who send convincing emails within your domain, to fellow staff. Unsuspecting employees may find it hard to explain issues arising from fraudulently emailed instructions.
7. Install Security Suites for Protection
Here, you explore antivirus software's at the minimum level or a full security suite. Some offer your laptops with anti-theft measures. In case it's stolen; the features in it lock it up and may even facilitate in its recovery.
To build upon the security, how are you Protecting Your Identity Online? Add more layers of security. Use a VPN to hide your IP address. Your antivirus software's gives your local PC security, while a VPN protects the data you transmit to and from your device.

The VPN conceals your IPs' location. So websites are deterred from revealing your physical location.
8. Ensure That You Are Not Oversharing
Social media channels encourage us to share our posts and pictures. How can you tell if all your friends are genuine? Those who steal your identity masquerade as friends on these channels. One more loophole exists where the channels update their settings frequently. Always ensure that your settings are updated at all times. Every update leaves you vulnerable if your settings are outdated.
Concluding Your Protection To Online Security
Your life doesn't have to change entirely for you to be Protecting Your Identity Online. You are just required to adopt the above points over time. Do not stop learning, go for more, and assist others by spreading the word. In total, you'll find yourself adequately protected at a personal level, and help to create a more aware internet security aware community.

Join Jerusalem Post Premium Plus now for just $5 and upgrade your experience with an ads-free website and exclusive content. Click here>>


Source: on 2018-12-19 12:26:15

Read More At Source Site